Scansite Joins the Fight Against COVID19.
Scansite Engineers and Manufacturers AIR INTAKE ADAPTOR FILTER to retrofit a Stryker™ Flyte™ Personal Protection System.
Under the direction of Dr. Thomas Ahlberg of St. Francis Memorial Hospital in San Francisco, Scansite has engineered and manufactured a replacement component for the Flyte™ personal protection suit that transforms the state-of-the-art medical gear to include a particulate-screening air filter. When upgraded to include the AIR INTAKE ADAPTOR FILTER, this protective gear could be very useful in protecting wearers when treating patients with communicable viruses.
Scansite Remains Open to Assist With your Project
In response to the COVID19 pandemic, Scansite has dispersed its resources to enable our staff to work remotely. We would like to stress that the safety, health and well-being of our employees, our families and our communities is our first and highest priority.
Scansite has been in the business of creating new products for the world's most innovative companies for over 20 years. While the impact of this virus remains unpredictable, agility is a core strength of our business and our ability to respond to this situation is inherent in our business model. We have reverse engineered a way to continue to provide all services!
Please do not hesitate to call us with any questions and we sincerely hope that everyone will remain safe during this difficult time.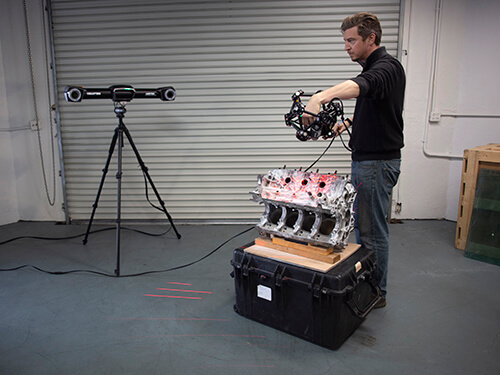 Scansite3D has over two decades of experience providing 3D scanning and reverse engineering services.  Our extensive list of customer includes a wide variety of organizations from Airbus and Pratt & Whitney to Nike and Industrial Light & Magic to The Smithsonian Institution and The Metrolpolitan Museum of Art.
Some of our services include:
3D Scanning with Creaform®  laser scanners as well as aerospace quality structured light 3D scanners manufactured by GOM/ATOS and Aicon/Breuckmann.  We also provide photogrammetry measuring services using Aicon 3D photogrammetry systems.
We provide reverse engineering services using Geomagic DesignX® software.  We can deliver CAD files to our customers in STEP format for any of the mainstream CAD software packages including SOLIDWORKS®, CATIA®, Siemens NX®, Solid Edge, Autodesk Inventor®, PTC Creo® and Pro/ENGINEER®.  In addition, we can provide "natively parametric" (with feature tree) files and assemblies for SOLIDWORKS®, CATIA®, and PTC Creo® software users.
We provide onsite 3D scanning services worldwide.
First article 3D scanning and inspection services.
3D printing in a large variety of materials.
CNC foam milling services.
Scansite3D has full 3D production capabilities that allow is to take complicated projects from beginning to end, including bronze foundry work, resin casting, virtual reality and much more.